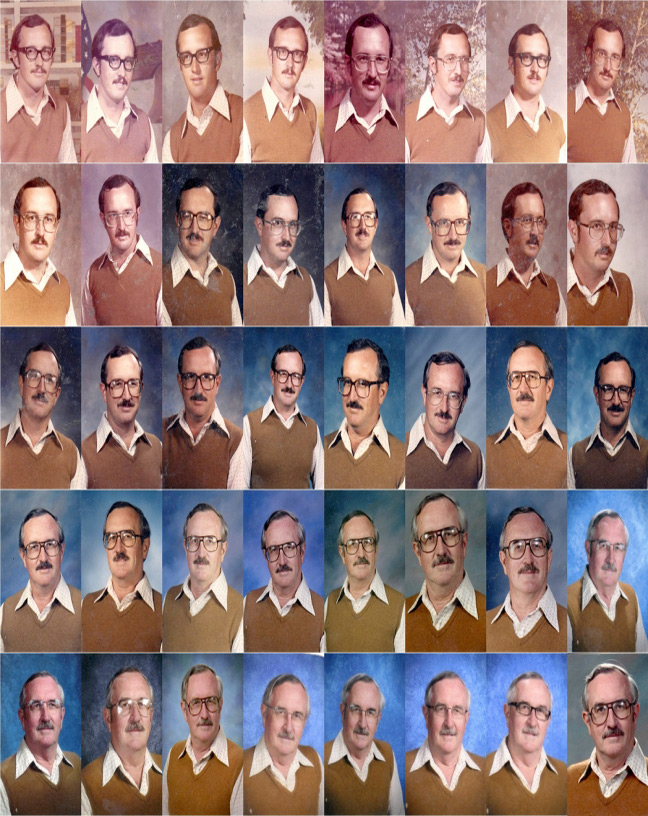 Dale Irby is retiring after 40 years. And so is his yearbook outfit.
For his entire career at Prestonwood Elementary in the Richardson school district in Texas, the physical education teacher wore the same disco-era shirt and dirt-colored sweater each year for his yearbook picture.
At first, Irby told the Dallas Morning News, it was an accident when he wore the same outfit in the yearbook two years in a row.
"I was so embarrassed when I got the school pictures back that second year and realized I had worn the very same thing as the first year," he said.
Then his wife, Cathy, dared him to make it three.
"After five pictures, it was like: 'Why stop?'"
The gym teacher, now 63, had a pretty loose dress code much of the time that allowed him to wear shorts to school. But on picture day, it was dress-up day. And that day became a "Groundhog Day" of outfits: polyester, pointy-collared shirt and brown sweater.
The Dallas Morning News video shows the photos of the teacher's near-identical outfit year after year. The mustache gets a little grayer, and the eyeglasses get a little smaller. The rest of the look is the same. Impressively, he still fits into the same shirt as long as he "sucks it in a little."
While Irby's fashion sense can be questioned, according to principal Pam Aitken, his contributions cannot. Irby, she said, was an educational treasure.
"He took his job so seriously in teaching good sportsmanship—both in athletics and in life," Aitken told the Dallas Morning News. "He taught a lot of kids to be fair and respectful of others. That's a great legacy."
Video:
Source: Yahoo News