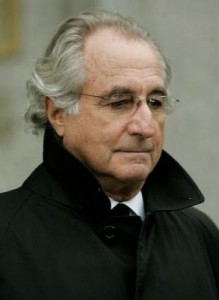 Bernard Madoff, the man who  has 150 years of jail sentence under his belt for his cunning way of $65 billion fraud is no more the pep talk on the media. Rather, he is now famous for the auctions done on his belongings.
Recently, his goods from his house were led for an auction and surprisingly his underwear went for $200 sale.
Interesting. Who would have bought an underwear? May be some old fan of Bernard who want to become like him. Lol! Just kidding.
According to the Miami Herald, 14 pairs of Madoff's boxer shorts, confiscated from his Palm Beach mansion, fetched a total of $200.
"It went about as expected," the newspaper quotes auctioneer Bob Sheehan as saying.
"When we sold the stuff from his house in New York, it brought in millions, but that included boats and cars and jewellery. This one was mostly household goods."
Another buyer paid $31,000 for Madoff's 1952 Rolex watch, while a work entitled "Nude" by photographer Edward Weston sold for $4,600.
So far $400,000 has been collected as part of the auction conducted by US Marshals Service. The money will go to the victims of the fraudster Madoff