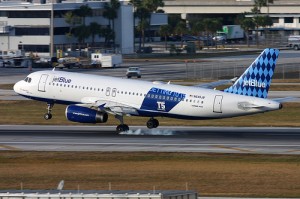 Give me a sec, am still laughing on this weirdest incident of a lifetime. An attendant of Blue flight Steven Slater  jumps off the plane after having a quarrel  with a passenger. The interesting point is, He grabbed 2 beers for company.
Boy what a man! This odd incident ignited when One passenger got out of his seat to fetch his belongings from the overhead compartment before the crew had given permission. Mr. Slater instructed the man to remain seated. The passenger defied him. Mr. Slater approached and reached the passenger just as he pulled down his luggage, which struck Mr. Slater in the head. Mr. Slater asked for an apology.
The passenger instead cursed at him. Mr. Slater got on the plane's public address system and cursed out all aboard. Then he activated the inflatable evacuation slide at service exit R1, launched himself off the plane, an Embraer 190, ran to the employee parking lot and left the airport in a car he had parked there.
Before jumping off the plane, Mr.Slater said the magic words, "For the passenger who said me f**k**, f*** you.
Frankly speaking, i believe Mr. Slater as a man of character. Any Passenger deserves this if they misbehave.
Is there any rule that a employee should be a slave to passenger? Don't they have any rights for themselves?
I say Yes. All Employees are humans and they do have emotions.
Though he is arrested by police on the likely charges for criminal mischief.
Mr. Slater your my hero.Thumbs up to you man. Great Work.