A Giant Snail also known as Albino Snail nicknamed "Milky Bar snail" has been found in New Zealand by a group of  hikers. With this find, the Snail becomes only the second in the recorded history of  white Snails.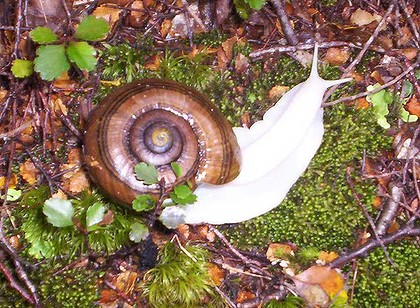 The  Snail 'Powelliphanta', is meat eating Carnivores usually preying on Earthworms and sometimes on slugs. These type of snails are found in New Zealand and are considered extremely rare.
"Our group had seen three or four snails already that morning as it had rained and they'd come out in the wet conditions," said hiker Bill Brough, of Motueka.
"Then I saw the white snail and went wow! We were excited to see it, knowing how extraordinary it was."
Good Lord, this is amazing.
Photos taken by the Waimea Tramping Club show the Powelliphanta  hochstetteri had a characteristic golden brown-spiralled shell but a body that was glowing white rather than the usual deep black colour.
Department of Conservation Powelliphanta expert Kath Walker says in more than 30 years studying the native snails it is only the second albino she has seen.
"I was curious and interested to see the albino snail as it is exceptional to come across one," she said.
"From the photos it looks to be an adult snail at least 10 years old and I am amazed it has survived this long. Its white body would make it clearly stand out to be picked off by weka [a flightless bird] or other predators."