When two girls lift a tractor off their dad, it makes headline news, even if the town is 20 minutes away from town. Sources say two Oregon teens saved their father's life by lifting a 3,000-pound tractor off his chest after being trapped underneath. In their small town of Lebanon, they are being hailed as heroes.
In the quiet country 15 miles east of Lebanon, Oregon, people know how to take care of themselves.
It's essential. Emergency medical care is a long ways off, which is why there was no room for error on Monday, April 1, when Jeff Smith nearly went for the last ride of his life on his 1949 tractor.
"I reached for the shifter, but my boot had a lot of mud on it and my foot slipped off the clutch, and it just walked that tractor straight over backwards on top of me," Smith said.
Smith was pinned in the middle of his garden. His daughters were out walking their dogs, and with no one else around, he did the only thing he could. He screamed for help.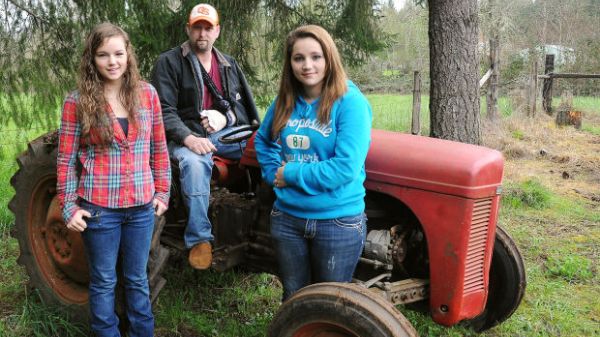 "Which was scary because it was on my chest," said Smith. "Every time I called out for help, it was kinda like a constrictor. Every time I yelled out, I lost some of that, I could only get some of that back."
His daughters heard the cries and ran back to the house.
"He was just laying in the dirt under the tractor and screaming," said Hannah Smith. "And he would not stop screaming."
They tried to dig him out but couldn't. So they grabbed onto the heavy iron machine, weighing 3,000 pounds, and lifted.
"I was saying God help me over and over, 'cause I obviously could not lift it myself," said Haylee Smith. "It was heavy."
But it was not heavier than their desire to save their dad. They raised it just enough for him to slide out.
"They're great girls, but that's a lot of weight," said the father. "Honestly, I'm a big guy– I don't know if I could do it."
Eight days after it happened, 16-year-old Hannah and 14-year-old Haylee still struggle to explain how they did it. Maybe it's because they knew they had to rescue their father. They couldn't wait 20 minutes.
"It just feels like a dream," they say. "It just feels like it never happened."