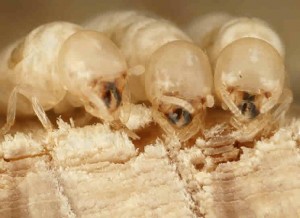 Lol! The Hungry termites have eaten nearly $225,000 cash in a Bank of India.
The incident took place at an Indian Bank located in Uttar Pradesh, India.
I am surprised with the negligence of the bank officers. What were they doing?
Same Old Action:

The State Bank of India says an enquiry into the latest incident has been held.
"The branch management has been found guilty of laxity due to which the notes were damaged by termites in the Fatehpur branch of Barabanki district," State Bank of India Chief General Manager Abhay Singh told the Press Trust of India.
"Action will be taken against those responsible in the matter.
"At it was the bank's fault, it will bear the loss caused due to termites… there will be no loss to the public."
Ms Singh said that identity numbers on the majority of the notes were still intact, which meant that they could be replaced.
Bank officials discovered that the notes – which were kept in a strongroom – had been damaged by termites earlier this month.
Ms Singh said that directives had now been issued to all branches that stored currency in strongrooms to ensure that the condition of the cash is checked every two months.
Reports say that the branch where the money was stored was old, seldom properly cleaned and known to be a haven for termites.
"It was earlier brought to the notice of the management that termites were damaging files and furniture. Efforts are on to relocate the bank at some other place," Ms Singh said.
I guess, the bank officials have lot to talk to its customers when they storm the bank for their money.