A Goblin like Shark caught in Gulf of Mexico on April 19 excites the researchers as it is only the second member of his species ever to be caught in the Gulf of Mexico, since the first found in 2000.
Carl Moore, 63, of Townsend, Georgia, became an unlikely archeologist to have caught the Goblin Shark through an 18-day fishing trip, which he estimates was 18 to 20 feet long.
"First thing I told them boys was, 'Man, he's ugly! Looks prehistoric to me,'" Moore added.
"I was going to take the tape measure, then he flashed around again. I said, 'Forget the measurement. That thing'll eat me up!'", recalled Carl Moore who had caught the Goblin shark at 2000 meters in the sea which confirms with John Carlson, a research biologist for the U.S. National Oceanic and Atmospheric Administration (NOAA) Fisheries Service, who added the Shark are usually found at the level of 2000 to 3000 meters.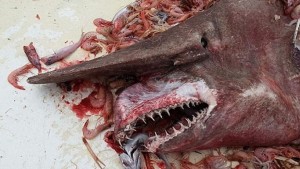 Goblin sharks do resemble some prehistoric species, and Carlson said Moore made a "pretty important find." They're not seen anywhere all that often, though the coast of Japan boasts the shark's share of recorded sightings.
"We don't know a lot about deep water fauna," Carlson said. "We know little about (goblin sharks) — how long they live, how fast they grow." One thing that's fairly certain: At their size, goblin sharks have few natural predators, according to Carlson.
This find would have benefited an study on the behavior of the species, however,  Moore decided to set it free which Carlson reckon was the right thing to do!