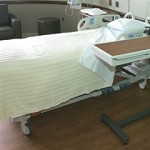 For construction worker Jose Paulino, four cracked ribs after an eight-story fall were — well, a lucky break, CBS station WCBS-TV reports.
The 29-year-old native of the Dominican Republic celebrated Christmas in a hospital bed after the accident that sent him plummeting off a midtown Manhattan building — from a 16th floor plank onto scaffolding below.
"I took a step, and I was falling, falling, falling," he said later. "It felt like it was happening to somebody else."
He tried to grab onto something, "but I just kept falling and falling, and I thought I might die."
Paulino was part of a crew dismantling scaffolding at the 20-story building in the garment district on Thursday afternoon, after some repair work.
Suddenly, a plank snapped under his feet.
"It was horrible seeing him fall through the air so fast, and when he landed, I thought he was dead," said his brother, Juan Paulino, who was also part of the work crew.
Police responded to the scene, and Jose Paulino was rushed to St. Vincent's Hospital, where he was in stable condition and recuperating on Saturday. He also hurt his neck, shoulder and leg.
"I was hurting and in pain, but I knew I was still alive, and right then I knew I would see my wife and kids again," said the Bronx resident, calling his lucky break "the best Christmas present ever."
A lineup of relatives and friends showed up at the hospital on Christmas Day. Some brought the worker's favorite comfort food: sancocho, a stew of meat, potatoes and plantain.
The family — including his wife, 2-year-old daughter and 4-year-old son — planned to celebrate Christmas when he is released from the hospital, probably next week. Source : wbztv.com