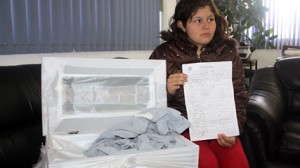 A Mexican baby who was declared dead by the doctors come backs to life in coffin.
What a miracle! Definitely it is a miracle and the reasons we believe is so compelling.
The doctors give the mother the death certificate and kept the baby in ice-cold mortuary for 4 long hours. It is to be noted that the child weighted only 1.2 pounds and was declared pre mature by the doctor.
After 4 hours in mortuary, the body of the infant was handed back to the mother and placed inside a coffin.
This is when the mother whose name is Dafne Marisol Hernandez, 17, heard noises and cries from inside the coffin.
"That was when we realized she was alive," Hernandez told the Reforma news agency. "There were movements and noises from inside the box where she had placed to be buried."
Doctors stunned
Doctors are in a state of  dumbness to actually describe what happened to the baby. The baby was declared death by the doctors after a week of her birth.
The case is "very strange and inexplicable," Adolfo Martinez, director of the hospital, told news agency EFE. "We don't know exactly when the heart and lung function returned."
Speaking on 4 hour long ice cold Mortuary, "We know that premature babies can't take even a minute of cold conditions, let alone the temperature of a morgue," Martinez said. "It's not normal that she survived."