A mutant animal has been found in China's Xinxiang city. It seems to be a bit like pig and a bit like dog. But nobody really knows what it is.
Its a pig, no its a dog, oh wait! What the *** is that?!?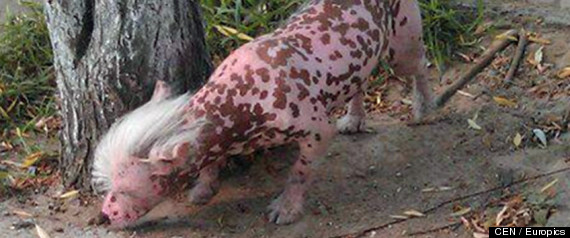 This strange creature has been spotted in Xinxiang, but with all the experiments with pet dogs to bring out better breeds of dog that are more than a show piece than a useful companion, this dog will not really surprise us. Maybe it is part of a failed experiment?
The creature sports a coat of pink skin and dalmation-like spots. The animal is hairless, save for a small mane of white tufts on its head.
Local residents don't know what to make of it. One witness said, "The pink skin makes it look just like pig gone wrong [sic] in some sort of genetic experiment," the Daily Telegraph reports.
Police stepped in and confirmed that the animal, is, in fact, a stray dog — a Chinese Crested Hairless, to be specific.
The hairless variety of the Crested is more susceptible to skin irritations and sunburns, according to the American Kennel Club. This attribute may explain the dog's unusual appearance.
Members of the Crested breed frequently appear in the World's Ugliest Dog Contest, the Medical Daily reports.