Are you wondering whats happening with your Facebook page, well your not the first of the kind.
The facebook website has been shut down with error. Not only US visitors but visitors from around the world are facing the same problem, i.e., They could not access the Face Book.
The same happened to me as well folks. Yep, i tried to login and it got logged in but i got the following error message from Face book page
"An error occurred. Please try again later."
and the website link was http://www.facebook.com/connect/uiserver.php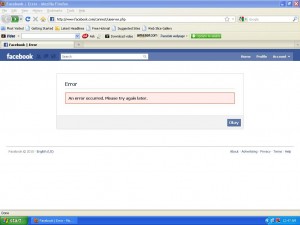 I think this is really Mean from face book owners. If they really are maintaining their website server or something, they could have atleast informed the users about the scheduled close.
This is why i  like google the most!!!
Update :

Facebook is working fine now! The site was down for couple of mins.