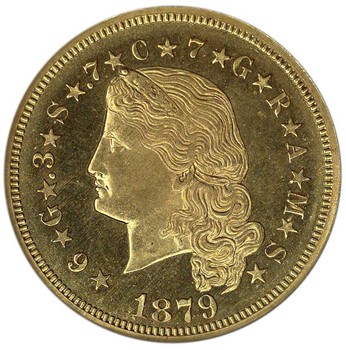 A rare $4 gold coin which in itself has a face value of just $4 has a price tag of $1.5 million, its kind of ironic isn't it? Well, guess that is how crazy this world can get.
This rare $4 gold coin will be going on auction on Sept 23. According to Yahoo! News, this coin was first wrought back in 1880 and is formally scheduled to be auctioned in Los Angeles by  Bonhams.
The rare $4 gold coin could sell up to $1.5 million at full price, early finance experts estimate. The incredibly rare and coveted coin which uses six grams of pure gold that was originally struck here in the U.S. but never officially released into public circulation is going to be auctioned and sold later this month. A total of 26 other coins are also going on sale during the big auction in California, with the whole sum value of the coins clocking in a cool $8 million.
It was Paul Song, who works as the director for Bonhams regarding all things rare and valuable in coin-making, who said in a recent statement on the gold coin with a costly price tag:
"That's an average lot value of almost $300,000 per coin. That may not be a Monet painting but in my world, that's pretty amazing. It's been a privilege to handle them, and they are gorgeous, just because they're gold, perfectly struck and the designs are really incredible."
According to Song's explanation, the rare $4 gold coin is not only an American classic piece, but is a true work of art in its own right. One side features a portrait of the Statue of Liberty, who was wrought on the gold surface with a weight and style designed to match the other popular coins of the time throughout Europe. However, there was never enough demand for the $4 six-grams-of-gold piece, so it never made it to full circulation. Song added:
"At the end of the day, there was just not enough public support for it, and it became a political issue so it was basically a scrap heap of history, which also is what makes it so rare today … The 1880 $4 Coiled Hair Stella is one of the so-called white whales of the coin collecting world. They are so rare, they come on the market maybe once or twice, at most, every decade…That particular coin, there's only 10 or 12 now, and most of these are in public institutions or private collections."