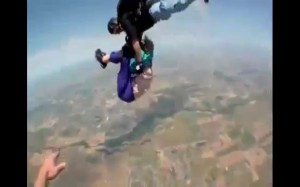 The internet people have some really odd taste. A video of a 80 year-old-women who went Skydiving on her 80th birthday and had a near-death experience as she fell out of her harness after she was pushed from the plane.
This video has been posted on YouTube, though the video is almost a year old it was posted on YouTube only this week.
The video has got the instructor and the skydiving company involved in trouble.
Really, if you watch the video, you could see that they pushed her out of the plane when she wasn't willing to do it.
After the fall, she is simply hanging by the harness that slipped all the way to her knees. She could have easily slipped out of the harness, the instructor told to keep her legs folded just to keep her alive.
The camera man also panics and reaches them to help out, but what could be done while they plummet 13,000 feet towards the ground?
Thankfully, nothing happened during the landing and both are safe.
We have the video for you, it is scary!

An employee of the Parachute Center told the Daily News that the incident took place more than a year ago but would not comment on what went wrong during the jump.
"No one got hurt," the employee said. "The equipment worked properly."
These people need to get their license canceled and jailed!
Who do you think is responsible for this? Tell Us.