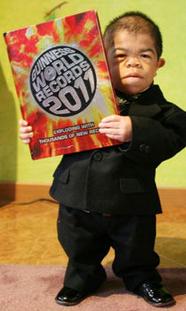 Edward Nino Hernandez weighs just 22lbs and has just been officially certified as the world's shortest living man by Guinness World Records.
The previous title-holder was He Pingping of China, who was 1.5 ins (4cm) taller and died March 13. The Guinness people discovered Nino afterward.
Mr Hernandez's reign is not likely to last long, however. Khagendra Thapa Magar of Nepal is expected to take over after he turns 18 on Oct. 14. He measures about 22 ins (56cm) and is currently recognised by Guinness as the shortest living teenager.
Heres a video for you on the dancing shortest man