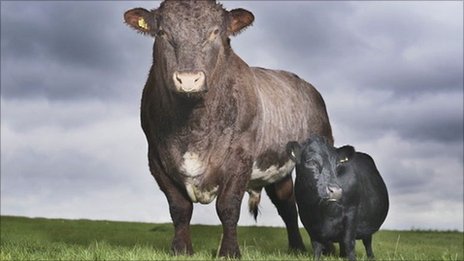 A cow which is just 33.5in (0.8m) tall has been included in the books of Guinness  World Records.
This cow is shorter than sheep itself ! omg, what a surprise!
The 11-year-old, who is currently pregnant, has produced nine calves and is described by owner Caroline Ryder as the "nanny of the herd".
Swallow secured a slot with the tallest dog, longest snake and oldest gorilla in the 2011 Guinness World Records.
Shallow Cow Birth Story
The tiny cow was born in Newbury, Berkshire in 1999 and bought by the Ryder family at a rare breed auction in 2006.
Brought up in Rishton, West Yorkshire, her small size means she is used for breeding, explained Mrs Ryder, who recently moved to Crossley Hall Farm, near Congleton.
"She was quite small when she was born and she has grown proportionately.She is really sweet – an asset to the herd. For a small cow with short legs she can't half move fast."BBC quoted Mrs Ryder as saying.
This makes the coast clear. I was just giving a bit of thought on the size of the cow and how she managed to move and stuff like that.
Being so small, she managed to reproduce many cows. so it proves height never matters. LOL.


Mrs Ryder's husband, Martyn, said: "I think she is just a genetic anomaly."
Craig Glenday, Guinness World Records editor-in-chief, said the tiny cow was one of his personal favourites among the 3,000 new records.
"It's been a fantastic year for record breaking," he said.
"The animal records are always among the most popular we have in the book."
We know that, Records are meant to be broken. But there are certain records that hold unique and i reckon this will surely be one among them