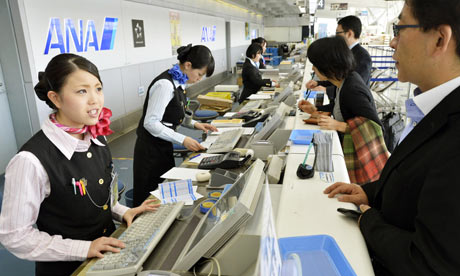 Panic stuck Sendai Airport, a major airport in Japan after construction workers found a unexploded World War II bomb in the runway.
All 92 flights in and out of Sendai airport were cancelled after the 250-kilogram (550-pound) bomb was uncovered during construction near a runway, local police official Hiroshi Ouchi said. The bomb was identified as American-made and is believed to be a dud from World War II.
It appeared to have a working detonator, and a military bomb squad was considering whether to move the bomb or explode it on the spot. Evacuations of nearby homes were being considered, Ouchi said.
The Sendai airport, a major hub for travel into northern Japan, was closed for months due to severe damage from last year's tsunami. It is still undergoing reconstruction.
The United States heavily bombed Japanese cities during World War II, and finding unexploded bombs is not unusual, 67 years after Japan's surrender. Dozens of duds are uncovered in Tokyo each year, and even more are found on the southern island of Okinawa, which was the site of the most intense fighting during the war.
Many of them are found at construction sites. The rusty condition of the bombs can make them prone to detonate when moved, but injuries are rare. Experts say it could take several decades to remove all of the unexploded ordnance.
Last week, hundreds of residents in central Tokyo were evacuated so that bomb squads could remove a 220-kilogram dud buried there.