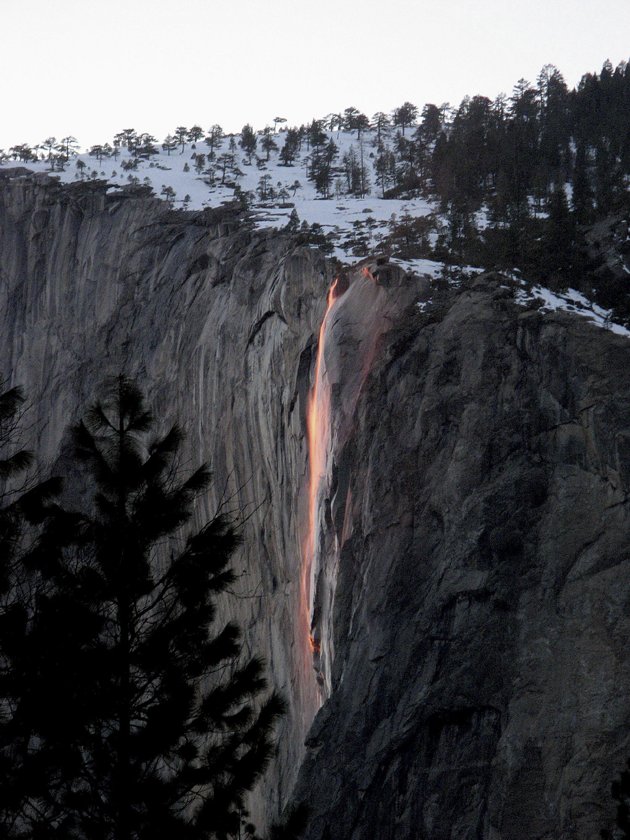 Every February Yosemite national park's waterfall turns spectacular by turning into lava. A window of time just opened in Yosemite National Park when nature photographers wait, as if for an eclipse, until the moment when the sun and earth align to create a fleeting phenomenon.
This marvel of celestial configuration happens in a flash at sunset in mid-February — if the winter weather cooperates. On those days the setting sun illuminates one of the park's lesser-known waterfalls so precisely that it resembles molten lava as it flows over the sheer granite face of the imposing El Capitan.
"If you hit it at just the right time, it turns this amazing color of gold or red-orange," said Frye, a photo instructor with the Ansel Adams Gallery in the park.
To be successful in photographing the watery firefall, it takes luck and timing, and the cooperation of nature. Horsetail Fall drains a small area on the eastern summit of El Capitan and flows only in the winter and spring in years with adequate rain and snow, which is scarce this year. Experts say it doesn't take a lot of water for the fall to light up.
Most important, the southwestern horizon must be clear, and February is the time of year when storm clouds often obscure the setting sun.
Had visitors looked in the opposite direction at a different time of year they would have seen the watery fire-fall of nature.
"There's no comparison, and I've seen both," said park spokesman Scott Gediman. "The natural activities and occurrences in Yosemite are far more amazing and more valuable than the human-made ones — everything from a sunset to wildlife to rainbows at Vernal Fall. There are a lot of amazing things, and they're here year after year."