Apple has finally launched iPhone 5 and with iPhone 5 comes the all new iOS 6. With every new OS are new awesome features. Lets have a look at the top 9 features of iOS 6.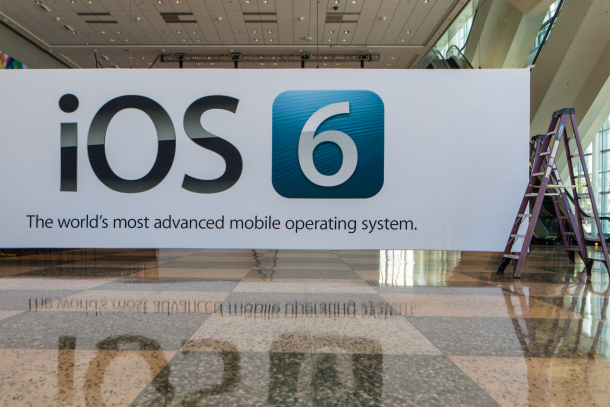 Here are the  Top 9 things you need to know about the all new iOS 6:
1. Siri Just Got Smarter!
Oh yea, your very own virtual friend Siri has just got a lot smarter. Siri evil hand will spread across multiple applications and Siri will now have more control over what you can do with your phone! Doesn't this sound like a lot of fun??
Siri can answer questions about major league sports scores and player stats. How tall is Lebron James? I don't know or care, but I could ask Siri if I wanted to.
Siri's integrated with Yelp and OpenTable. So using it to find a restaurant isn't completely pointless anymore. And she knows what movies are playing at theaters, with built-in trailers.
Siri can launch apps. And Tweet. Here come the driving-while-your-tweeting tweets.
Annnd automakers are going to build a Siri feature, Eyes Free, into their cars over the next 12 months. Siri is the new iPod connector.
2. There is a new mail app
Lots of changes are there here but you will only notice the pull-to-refresh feature. This will you life much easier. If you want to instantly check if any new mail has come just pull-down the emails and it will automatically check with all your emails for new mails.
Now, isn't this a cool feature? This also makes life a lot easier.
3. Facebook isn't just an app anymore, its got bigger!
Apple decided to give Facebook more importance in iOS 6, which means Facebook isn't just a app anymore, its got more control over other apps. Below are some of the highlights of Facebook in iOS 6:
Facebook's built into all of the main apps, like Safari, Photos and Maps. Posting webpages and photos is just like tweeting them out with Twitter in iOS 5.
It's integrated with Contacts and Calendars. So Facebook birthdays show up in your calendar and it adds data to your address book.
It's even built into the App Store and Notifications Center. So when you pull down notifications, you can tweet or post to Facebook from there — in other words, there is no escape. And you can Like apps in the App Store.
4. Reply to phone calls with canned response
In a meeting? or is someone just plain annoying you? Apple got a solution for your. You can now reply to phone calls with canned text messages, hmm like "STOP CALLING ME JERK!".
5. Do Not Disturb feature
It is now a global fact that mobile phones have become an part of us and it has started to annoy us a lot. We no longer got any private time, we are constantly bugged by our very own mobile.
Apple has worked out a feature for this Do Not Disturb, but what about emergencies?
Well, if a person repeatedly calls you, you can let him in :).
6. FaceTime calls over cell networks
No more being shackled to Wi-Fi. Plus! Apple's finally connected Apple IDs to phone numbers, so you can answer calls to your phone number on your Mac or iPad. Which I'm hoping fixes iMessages too.
7. Photo sharing is now more simple!
Photo sharing is not just simple and also much easier. You can also decide which group of people to share the photos with, making you shares more personalized.
You can upload photos to websites from Safari now. It's wonderful when something from computing circa forever ago is a new feature in 2012.
Shared Photostreams is a bigger deal than it sounds like. Apple's effectively letting you create ad hoc social networks: You pick some people, you pick some photos, and the photos show up in their Photo Stream automatically, or they can look them on the web. This might be the one Apple social network that isn't a tragicomedy
8.  Passbook is here!
A new app, Passbook, holds passes and tickets for all kinds of things. Boarding passes, movie tickets, loyalty cards. Um, how long before you can throw in your credit card??
It supports QR codes. Yay?!?
9. Goodbye Google Maps!
Apple has kicked out Google Maps and will be forcing us to use the Maps applications that it has build.
The old Google-powered Maps is dead. Apple built this new app from the ground up.
Local search is built into Maps. Powered by Yelp, you can pull up info on over 100 million locations, like reviews and hours.
There's a new Traffic service with live data. It shows traffic slowdowns, accidents and construction along your route and automatically re-routes you to save time.
It's got turn-by-turn navigation with quick routes. That whistling sound you here is the stock price of navigation companies, dropping.
Whizbang 3D maps with full three-dimensional models of cities all around the world. It's called Flyover, and it looks real neat.
Siri is built-in. So you can do a lot of stuff from the lock screen, and ask things like where to get gas.
But, well, it's no Google Maps. It's prettier, and the 3D stuff is nice. The turn-by-turn navigation was very, very rough in early betas, but now it's pretty trustworthy — about as good as most dedicated apps. For people in cities, though, the lack of transit directions is a big problem. There's really nothing: In New York, for example, you can't even tell which trains run at each station, even though the stations are on the map.
Maps is the biggest new features here, and it's mixed bag. I've been using it for a couple months now and I miss Google Maps.