Google's Android OS and Apple's iOS are increasingly dominating the mobile market share. They have showed impressive gains in the first quarter of 2012. Symbian and BlackBerry on the other hand continue to lose their ground.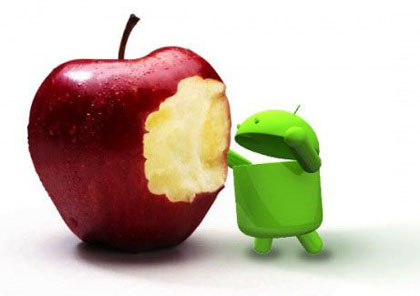 Market research firm IDC has published it's global smartphone market share report for the first quarter of this year. Android was a clear out the biggest winner in this game.
According to IDC's study, Android shipments during the quarter totalled 89.9 million units, up a staggering 145% from 36.7 million in the first quarter of 2011. iPhone shipments were up 88.7% over the first quarter last year to 35.1 million units, giving Apple 23% of the smartphone market in the first quarter compared to Google's 59% share.
"The popularity of Android and iOS stems from a combination of factors that the competition has struggled to keep up with," IDC analyst Ramon Llamas said in a statement. "Neither Android nor iOS were the first to market with some of these features, but the way they made the smartphone experience intuitive and seamless has quickly earned a massive following."
Shipments of smartphones powered by Nokia's forsaken Symbian OS dropped 60.6% to 10.4 million units, and BlackBerry shipments slid 29.7% to 9.7 million units in the first quarter. IDC's figures place Symbian's market share at an all-time low of 6.8%, and BlackBerry trailed narrowly with 6.4%.
Nokia's Lumia devices helped Microsoft's Windows Phone platform achieve narrow gains in the first quarter, though the market outgrew it once again. IDC shows that combined shipments of Windows Phone and Windows Mobile handsets grew from 2.6 million units in the first quarter last year to 3.3 million units in the first quarter of 2012, but Microsoft's share of the global market fell from 2.6% to 2.2% year-on-year.
Android sure is having the upper hand, will this trend continue?
What is your experience with smartphone OSs? Loved it? Hated it? Tell Us.