Apple is has invited the media for the launch even of iPad 3, which is on March 7,2012. Apple has invited a whole spectrum of people in the tech arena, from bloggers to IT experts to reporters. Looks like Apple has some surprise.
The news confirmed earlier speculation that Apple would debut the newest iPad — which most have labeled iPad 3 — in early March, which later settled on March 7, the same day of the week Apple used to launch the original tablet in 2010 and last year's iPad 2.
"We have something you really have to see. And touch," read the invitation, which continues Apple's tradition of keeping its invitation text cryptic.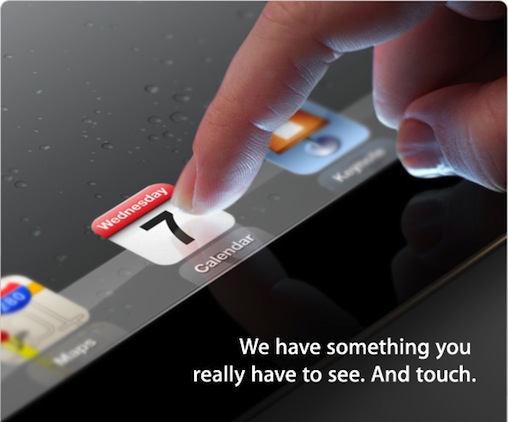 The background shows part of an iPad screen, with a finger poised over the Calendar app, which is set to March 7. If the background is a photograph of the iPad 3 and not digitally manipulated, it hints that the tablet will not sport a physical home button, as have earlier iPads.
Some bloggers argued that the photo also showed a higher-resolution, or so-called "Retina," display.
Apple will host the launch event at the Yerba Buena Center for the Arts in San Francisco, a regular venue for the company's press-only announcements and where former CEO Steve Jobs introduced the iPad 2 on March 2, 2011.
This will be the first time that Jobs, who died last October after a long battle with pancreatic cancer, will not host an iPad launch.
The event will kick off at 10 a.m. PT, and wrap up an hour or so later.
Most experts believe the iPad 3 will feature a higher-resolution screen, a faster processor — perhaps Apple's first quad-core — and more internal memory. They have been split on whether the new tablet will support the faster LTE data networks like those now being deployed in the U.S. by Verizon and AT&T.
Apple has not said anything about the price of the new iPad — some recent rumors have claimed it will cost about $80 more than current models — when it will go on sale or even the official name of the tablet.
Prices, on-sale dates and naming aree likely to be disclosed March 7.