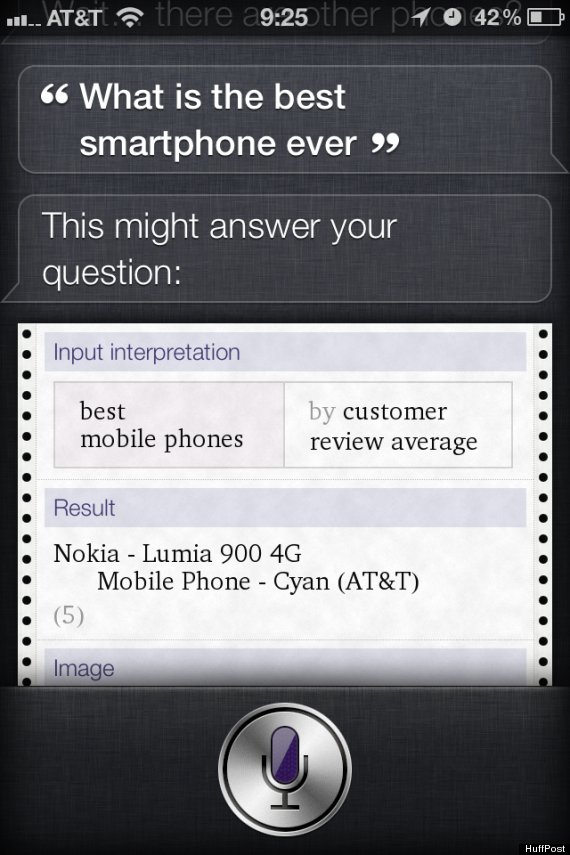 Oh, the irony! If you have an Apple iPhone 4S ask Siri "What is it the best cell phone ever?" and stand in awe as Siri replies that it is Nokia  Lumia 900.
Previously Apple has been accused of using Siri to make unfair advertisement of it's products, not any more.
A Windows Phone blog WMPowerUser.com was the first to discover this. They simply tried asking Siri this question and were surprised by the answer. Siris all over the world will give the same reply. Try it yourself!
Siri has been undoubtedly the best shown-off feature of iPhone 4s. But making it say such things is not really going to help Apple.
Now, to be fair, Siri doesn't always respond with "Nokia Lumia 900″ when you ask what the best cell phone is. Sometimes she says that "[y]ou're holding it"; other times with "You're kidding, right?" Those clever answers are programmed in by Siri's engineers; the Nokia Lumia 900 answer comes from Wolfram Alpha, a data-driven search engine that Siri often consults for more mathematical or statistical queries.
In other words: If you want Siri's opinion, she'll tell you the iPhone 4S is the best phone; if you want the facts, she'll tell you it's the Nokia Lumia 900.
Siri is turning against it creator, watch out you might be next!