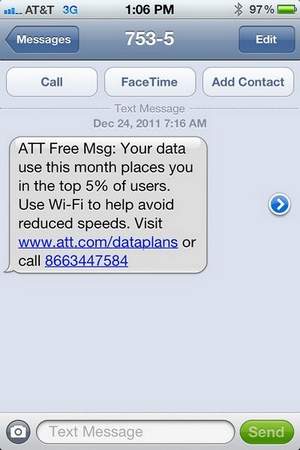 AT&T has sneakingly made changes to its so called unlimited data plans. Ahem, they are no longer unlimited. AT&T now throttles the your speed once they feel you(valuable customer) are a nuisance in their network.
Mike Trang likes to use his iPhone 4 as a GPS device, helping him get around in his job. Now and then, his younger cousins get ahold of it, and play some YouTube videos and games.
But in the past few weeks, there has been none of that, because AT&T Inc. put a virtual wheel clamp on his phone. Web pages wouldn't load and maps wouldn't render. Forget about YouTube videos — Trang's data speeds were reduced to dial-up levels.
"It basically makes my phone useless," said Trang, an Orange County, Calif. property manager.
AT&T has some 17 million customers with "unlimited data" plans that can be subject to throttling, representing just under half of its smartphone users. It stopped signing up new customers for those plans in 2010, and warned last year that it would start slowing speeds for people who consume the most data.
Users report that if they call the company to ask or complain about the throttling, AT&T customer support representatives suggest they switch to the limited plan.
"They're coaxing you toward the tiered plan," said Gregory Tallman in Hopatcong, N.J. He hasn't had his iPhone 4S throttled yet, but he's gotten text-messages from AT&T, warning that he's approaching the limit. This came after he had used just 1.5 gigabytes of data in that billing cycle.
Verizon doesn't slow down the "5 percent" unless the cell tower their phone is connected to is congested at that moment, and it slows them down by the minimum amount necessary. By contrast, once AT&T has decided to throttle your phone, it will be slow for the rest of the billing cycle, even if it's 3 a.m. and there are no other cellphones competing for the capacity of that particular cell tower.
Verizon's measures have drawn few complaints, and indeed, may have gone unnoticed even by the "5 percent."
T-Mobile USA is up front about the level it starts throttling at: 5 gigabytes. AT&T subscribers have no idea if they might be among the top 5 percent until they get the warning, which is soon followed by throttled service. While Trang was throttled at 2.3 gigabytes, he knows other iPhone owners who are using 5 or 6 gigabytes per month with impunity.
Source : Yahoo News