Huh?, I know I am bit late to announce this. But I was kinda doing some research on the Playbook,trying to find out how actually is the Blackberry Playbook better then the its competitors viz., Samsung Galaxy Tab, Motorola Xoom, Apple iPad and of course lets not forget HTC Flyer.
Apart from these there are of course some other tablets from Acer, Asus, Panasonic, Lenovo, LG etc.
Now, lets have a look at the features of Blackberry Playbook: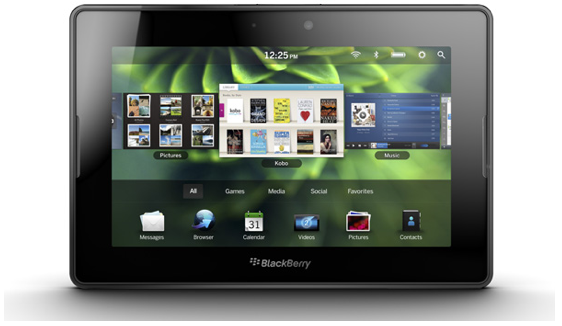 Operating system: Blackberry OS
Height:    130 mm
Width:    194 mm
Depth:    10 mm
Weight:    0.425 kgs
Processor:    1GHz dual core processor.
RAM:    1 GB
Hard Drive Sized:  16GB,  32 GB and 64GB
Display & Graphics
Screen Size:    7 inches
Screen Resolution:   1024 x 600 pixels
Display Type:    Multi-touch LCD display WSVGA capacitive screen
Audio
Speakers:    Stereo speakers
Microphone-In    Yes
USB Interface    Yes
HDMI Interface    Yes
Wireless:    Wi fi 802.11 a,b,g,n
Bluetooth    Yes
Built-in webcam
3 MP high-definition forward-facing camera
5 MP high-definition rear-facing camera
Battery Life 600 mins
Other Features
BlackBerry Bridge technology
Corporate intranet browsing
Documents To Go
Adobe Reader
Enterprise VPN
Manufacturer's warranty: 1 year
There is of course something missing, Playbook does not support 3G data connectivity. You can go online only via WiFi. The same is with Samsung Galaxy Tab, it runs on Android 2.2(Froyo).
Blackberry Playbook on the other hand is powered by its own OS. The Blackberry OS designed for its tablets.
Motorola Xoom comes with a 3G sim slot. But it is way more expensive for that tiny little feature, not to forget its screen size is 10.1 inch. But Xoom is powered by Android 3.1(HoneyComb), this is the first OS by Android specifically designed for Tablets. So its just going to make your tablet experience more enjoyable and easy.
Playbook is priced at 16GB – $499, 32GB – $599 and 64GB – $699.
Whereas Motorola Xoom is priced at $799 without any Verizon plans.
I guess that it with the Blackberry Playbook. Its seems quite competitive. But since its on a new OS, we'll have to wait for reviews of OS as well and some time (to detect bugs) before we can jump into Playbook.
On another note, I came across a cool new advertisement for Playbook by Carphone Warehouse. Here is the video on YouTube:

Now keep your eyes on his hand and don't blame me if your brain explodes.
Its a really cool new approach that brings out the features of Playbook and at the same time keep you entertained throughout the video.