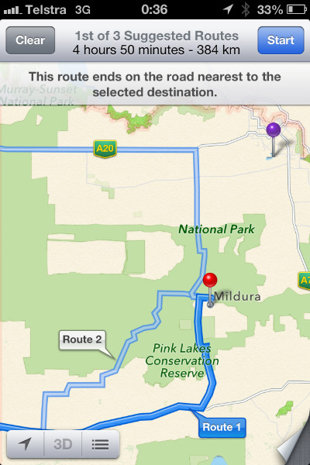 Apple Maps have been sending motorists to bush, the Australian police have issued an official warning against the use of Apple Maps.
Police in Australia are urging motorists not to rely on the company's new maps application after several people using its directions became stranded inside a national park in scorching heat.
Authorities in Mildura, Australia say Apple Maps lists the town of 30,000 as being inside Murray-Sunset National Park–or 45 miles from its actual location. According to the Guardian newspaper, one man was stranded for 24 hours. Three others had to be rescued.
Mildura's mayor is reportedly outraged.
"We are the center of the universe here in Mildura but apparently not everyone, including Apple, has worked it out yet," Mildura Mayor Glenn Milner told The Australian.
Apple says it has redrawn its maps as a result of the complaints.
The Cupertino, Calif.-based tech giant dropped Google Maps when it launched the iPhone 5 and iOS operating system in September. A week later, Apple's chief executive Tim Cook issued a public apology and fired the developer responsible for the maps blunder.