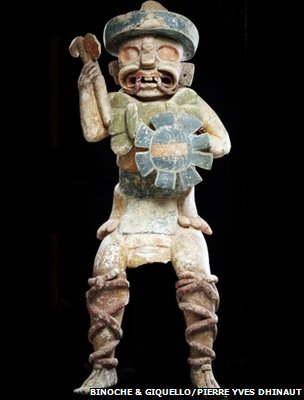 A Mayan sculpture sold in an auction at paris for $4.2m is actually a fake one, says Mexican officials
The French auction house Drouot maintains that the statue, of a masked figure carrying a shield, is genuine and more than 1,000 years old.
But Mexico's National Institute of Anthropology and History says it does not match the style of the period it was supposedly from.
The Mexican foreign ministry has informed French authorities.
"The figure tries to recreate the Pre-Columbian features of the Maya region in southeastern Mexico, but the height, the posture and the flexed legs and the boot straps are not characteristic of this culture," the institute said.
The institute suggested that it had been carefully carved to give an ancient appearance
But the expert in Pre-Columbian art at Drouot, Jacques Blazy, told AFP news agency: "Mexico's accusations are totally ridiculous. They are completely baseless. It is a well-known artefact that has been thoroughly analysed."
The 1.65m (5ft 4in) statue, sold by a private collector to an anonymous European buyer, was the most expensive item at the sale.
I reckon, the mayans have become too much popular (thanks to 2012 hoax) that people are using its name to fake and gain money.