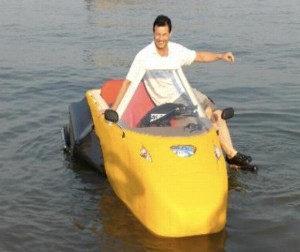 A car that provides a strong protective cage covered with soft foam on both the outside and inside has been one of the most intriguing vehicles competing for the Progressive Insurance Automotive X Prize, a competition to see who can design the best 100-miles-per-gallon car.
All competitors have their eyes on 10 million dollars in prize money but the team behind the foam-wrapped Spira4u have yet another goal – to save lives.
Spira founder Lon Ballard, an American working in Thailand, said more than half the fatalities on the road in large cities and developing countries are pedestrians and motorcyclists. So the concept behind the Spira4u was to create a safer alternative to motorcycles and scooters for the Asian market – hence the foam.
"I pursued this foam concept to make a vehicle safer for both occupants and impacted persons," Fox News quoted Ballard, as saying.
Based on a Kawasaki motorcycle engine and transmission, Spira4u has a honeycomb core surrounded with a fibreglass-composite structure and covered in soft polyurethane foam. It weighs 500 pounds and seats two.
Before the competition, the Spira4u also took some unconventional tests: the car took a dip in the ocean (it can float) and was loaded with a pig carcass and rammed by a truck.
Ballard and his team have been working on the vehicle for two years.
"I've worked 60 to 80 hours a week" during that time, Ballard said, and invested about 200,000 dollars.
Although the Spira4u was eliminated from the X Prize competition over the weekend, it will still appear at the X Prize technology demonstration and finale on Sept. 15 in Washington, DC.