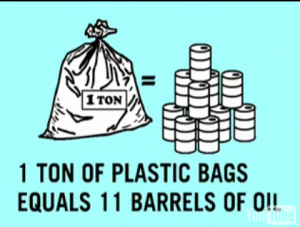 The long debated environmental issues due to burning of plastic might come to an end following the new technique that can recycle plastic to get oil.
Lol, how can a plastic produce  oil?
Well, plastic is initially manufactured with the help of  oil. World's total 7 percent of oil is used to make plastic. It is said that the reverse is also possible thankfully, a Japanese company called Blest.
The company has created a small, safe and easy to use machine that can convert several types of plastic back into oil.
"By burning the plastic, we generate toxins and a large amount of CO2. If we convert it into oil, we can save CO2 and at the same time people's awareness about the value of plastic garbage will also be increased", said Akinori Ito, CEO of Blest.
The company uses a temperature controlling electric heater rather than flame to burn the plastic, therefore, the conversion technology is very safe. The result is a crude gas that can fuel things like generators or stoves and, when refined, can even be pumped into a car, a boat or motorbike.
One kilogram of plastic produces almost one liter of oil. To convert that amount takes about 1 kilowatt of electricity, which costs approximately 20 cents. The company makes the machines in various sizes and has 60 in place at farms, fisheries and small factories in Japan and several abroad.
According to Ito, the company wants to produce a product that anyone can buy. The smallest version of the machine costs $9,500.
Well as per the price, i dont think an average citizen can afford this much of money. But really, the machine to convert plastic into oil is damn cool.