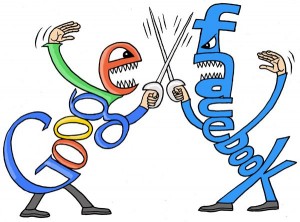 The sudden advent of Facebook brought a complete change to the so called Social Networking business.
Facebook, immediately claimed the top crown in Social Networking with over 700 plus million users in its bag.
Google became concerned on this new rivalry and offered partnership with facebook on account of user information sharing, but Facebook simply denied it.
Which led to the advent of Google+, a new Google's social media site for its general users.
No matter how big the enterprise is- G00gle- it still need its users to acknowledge its product but many people are slow to accept Google+.
In these desperate Googling times, Facebook has given a statement against Google copying it.
Google Is Copying Facebook
Google is copying facebook concept of games, reckons Sean Ryan, the director of Facebook game partnerships. He feels that Google+ is just trying to make an advanced copy of their site as they do have all rights to do that and now Facebook has to work to make their site better. He refers to the company making money from the virtual games like Farmville and words with friends in which players pay for the goods purchased in the games.
Currently, Facebook reportedly takes 30 percent from game developers, whereas Google takes just 5 percent as they don't have many users. So Google's motive is to increase the users by introducing better games.
Better Games Better Market
The rivals are fighting by improving game application in their sites as global virtual goods market is the largest revenue stream for the casual game maker which is expected to get doubled to $20.3 Billion by 2014. When the demand for these games increased it was especially among the middle aged woman in Midwest.
Though Google is trying very hard to get more website owners to join it by announcing the Search rank and priority will be given to the authors who have a Google+ plus profile, it still needs much more to do. And the allegations like copying a site is very harsh and i feel Google need to give a valid response to Facebook if they feel they are unique
Do you feel Google+ is a  copy of Facebook? Share with us via comments.