Google Play Store previously known as Google Market has hit the milestone of 25 Billion Downloads! Now this is something they can really celebrate about.
Google is indeed celebrating, they are offering a bunch of 25-cent apps from major developers throughout the week.
Remember, Google has achieved this mammoth milestone in less of 4-years of being in business.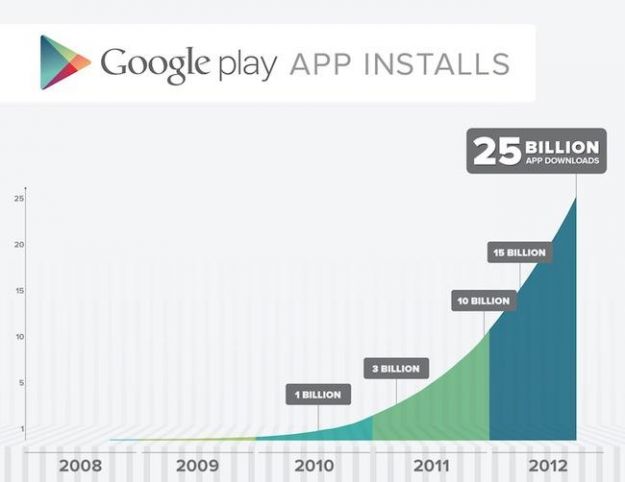 The Google Play store, home to more than 675,000 apps and games for Android-powered devices, hit 25 billion downloads this week.
To celebrate the milestone, discounts on a number of apps will be available over the next five days.
Anyone interested in picking up some cut-price software will have the chance to choose from a range of titles created by high-profile developers such as Gameloft, Electronic Arts, and Rovio. With an asking price of just 25 cents, Google Play is sure to see a spike in paid-for downloads in the coming days.
Google Play, called Android Market until earlier this year, is also offering special collections, such as "25 movies you must own, 25 banned books, 25 albums that changed the world and our 25 top selling magazines, all at special prices," Google's Jamie Rosenberg wrote in a blog post announcing the news.
Arch-rival Apple hit 25 billion downloads with its iOS App Store back in March, taking only slightly less time than Google Play in terms of how long the stores have been up and running. In fact, in terms of downloads and apps available (Google Play has 675,000 compared with iOS's 700,000), Google Play and the iOS store are now pretty much neck and neck.
But there are now more Android devices in the hands of users than iOS-powered devices, so it surely won't be long before Google Play surpasses its rival in terms of download numbers.
"Twenty-five billion is more than twice the distance, in miles, that the Voyager 1 spacecraft has travelled since its launch 35 years ago," Rosenberg wrote on the official Android blog. "It's the amount of time, in minutes, that have passed since some of our earliest ancestors began to set foot in Europe. And now, thanks to all of you, it's a Google Play milestone. We look forward to the next 25 billion."