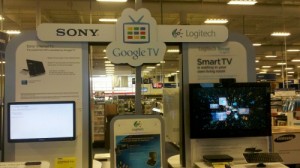 Today in "Old media versus the Internet," the Wall Street Journal
is reporting that major studios ABC (owned by Disney), CBS (part of CBS Corp) and NBC (owned by GE) have joined Hulu in blocking Google TV from accessing the available television episodes on their websites.
Various timeworn concerns such as lack of a viable business model for content owners, content being cannibalized by the Internet as well as Google's as of yet unknown position on piracy led to each individual network's decision to opt out.
A Google spokesperson told the WSJ:
"Google TV enables access to all the Web content you already get today on your phone and PC, but it is ultimately the content owners' choice to restrict their fans from accessing their content on the platform."
Heh.
MTV, Fox and HBO are still available on Google TV, which surfs the Internet and allows you to view web content on your television through compatible devices, although Fox has not yet decided
whether it will keep working with the service. Shows from other sub-networks like the CW and Lifetime are also still accessible, despite those networks being controlled by some of the parent companies listed above.
Looks like Google TV is the most recent battlefield in the three way war between Madison Avenue, Hollywood and Silicon Valley. It'll be interesting to see who (if anyone) wins.