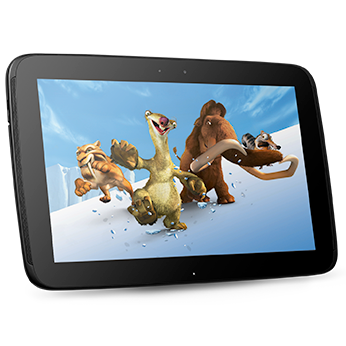 Google has unveiled a much larger tablet, a 10-inch Nexus tablet, the Google Nexus 10. The tablet market is getting quite crowded and first-time tablet owners are confused with all the choices.
Google 10-inch Nexus tablet has been launched after Microsoft launched Surface and Apple launched iPad Mini.
Google, the world's No.1 Internet search engine, has pushed deeper into the hardware business at a time when consumers are increasingly accessing the Web on mobile devices.
Google's new Nexus 10, made in partnership with consumer electronics company Samsung Electronics Co, is the first 10-inch tablet to come to market under Google's Nexus brand. The device, with prices starting at $299, will be available on November 13 in the United States and seven other countries, Google said in its official blog on Monday.
Google was scheduled to introduce the device at a media event in New York on Monday, but was forced to cancel because of Hurricane Sandy.
Google also updated its smaller, Nexus 7 tablet released earlier this year. It increased the storage on the $199 version of the device to 16GB from 8GB, and introduced a new $299 version of the Nexus 7 with a cellular data service option. Google also unveiled a new Nexus 4 smartphone, made in partnership with LG Electronics, that features a quad-core processor and a 4.7-inch display.
More information about Nexus 10 is available in Google Play.