India's Planet Mars dream is on schedule as the historical satellite Mangalyaan (as known as Mars Orbiter Mission) is nearing planet Mars and could reach Mars atmosphere in next 75 days.
Attributed as an historical milestone for India, India's Mangalyaan was launched on 5 November 2013 by the ISRO to orbit and study planet Mars.
"Mars Orbiter Spacecraft has travelled 525 million km on its heliocentric arc. Radio signals from earth now take 15 minutes to reach MOM and return. MOM's Mars Orbit Insertion is planned exactly 75 days from today (Saturday)," Isro said in a post on its Mars Orbit Mission Facebook page.
Mangalyaan is on its 680-million-km voyage to Mars. If it makes it, India will join an elite club comprising the US, Russia and Europe. Once in the Mars orbit, the orbiter's five payloads will start performing experiments for the next six months.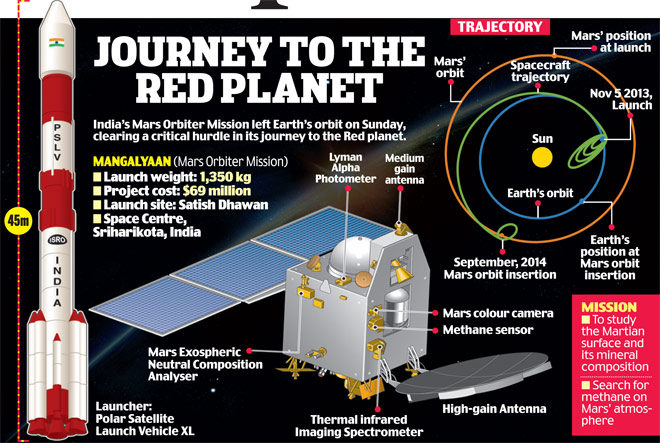 Only the US, Europe, and Russia have sent probes that have orbited or landed on Mars. Probes to Mars have a high failure rate and a success will be a boost for national pride.