Intel this week talked about some features in its upcoming Core chips based on Ivy Bridge chip architecture, which will bring improved graphics and application performance to PCs.
PCs with Ivy Bridge chips are due out next year, and will integrate support for Microsoft's DirectX 11, which will bring more depth and realism to graphics, said Phil Taylor, senior software engineer at Intel in a video published on the company's website. The chip will also render better graphics through shaders and post-processing capabilities.
Ivy Bridge processors will succeed the current Sandy Bridge family of Core processors, which are being used in recently announced laptops and desktops. Intel for the first time integrated the CPU and graphics processor inside a single chip with Sandy Bridge. Ivy Bridge has the underpinnings of Sandy Bridge, but chips will be made using the new 22-nanometer manufacturing process.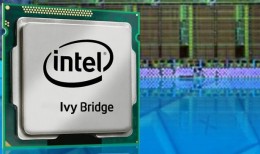 Current Sandy Bridge chips support DirectX 10.1, putting Intel behind Advanced Micro Devices, whose Fusion C- and E-series processors, released in January, integrate DirectX 11.
PCs with Ivy Bridge chips will also get an on-board bandwidth boost through support for the new PCI Express 3.0 protocol. The bus standard, finalized in November, will be able to transfer data at speeds of 8 gigatransfers per second, a 60 percent improvement over earlier specifications. The PCI Express 3.0 specification enables faster communication between components inside a system.