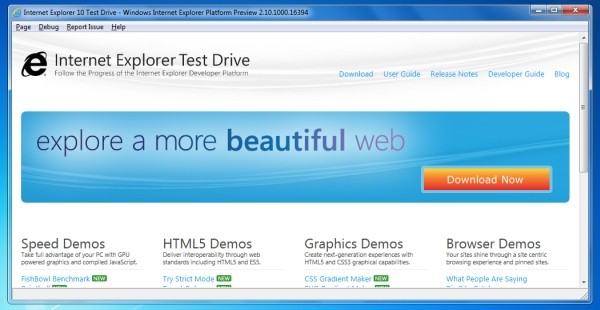 Microsoft has just announced that Internet Explorer 10 will ship with "Do Not Track" settings turned on by default. This bold move will be a blow to tracking based advertisement companies such as Google.
Microsoft's this simple gesture will make the internet a more safer place.
A lot of concern has been raised recently over the concern of privacy of an individual in the internet. The rampant growth of internet advertising had made advertisers and promoters such as Google move towards unethical means to track a user of all his browsing activity just to show him relevant advertisements. Now, though their reason might seem innocent this is a breach of trust!
While lot of browser add-ons and other softwares were growing that will help keep yourself private when browsing the internet all this has been extra work for an average internet user.
Firefox and Chrome recently rolled-out this feature but it was again a option that was available and had to be turned on by the user.
Microsoft has elected to release Internet Explorer 10.0 with Do Not Track as the default setting. Microsoft Chief Privacy Officer Brendon Lynch blogged about the decision here. He said, in part:
We believe that consumers should have more control over how information about their online behavior is tracked, shared and used. Online advertising is an important part of the economy supporting publishers and content owners and helping businesses of all shapes and sizes to go to market. There is also value for consumers in personalized experiences and receiving advertising that is relevant to them.

Of course, we hope that many consumers will see this value and make a conscious choice to share information in order to receive more personalized ad content. For us, that is the key distinction. Consumers should be empowered to make an informed choice and, for these reasons, we believe that for IE10 in Windows 8, a privacy-by-default state for online behavioral advertising is the right approach.
Safari too has this feature turned on by default. But then again, who really uses Safari other than Mac users?
The advertisement industry has of coursed reacted to this in a negative way, they believe that this will destroy the "free" internet.
Internet Explorer was the most popular browser until a few days back when Chrome took the top spot. So, Internet Explorer incorporating this feature will cause a major hit at the advertisers.
The Digital Advertising Alliance, a consortium of online ad networks and data gatherers that has been pushing for self-regulation of Web tracking for the past several years (and was apparently blindsided by Microsoft's announcement), issued a vigorous response. Here's the money quote:
The DAA is very concerned that this unilateral decision by one browser maker – made without consultation within the self-regulatory process – may ultimately narrow the scope of consumer choices, undercut thriving business models, and reduce the availability and diversity of the Internet products and services that millions of American consumers currently enjoy at no charge.
Bold move by Microsoft? Don't you agree?