iOS 7 is the latest from Apple mobile operating system iOS. Apple has announced that on Sept. 10th 2013 it will be launching the new iPhone 5S and iPhone 5C.
In case you are wondering what breakthrough technology Apple is going to bring out with it's brand new products, there isn't really much. But their new iOS 7 seems to packing in a lot of fun.
iOS 7 Release Date
So what is the iOS 7 release date? It's typically hard to tell, cause Apple hasn't announced that yet. But since the new iPhones are coming out on Sept. 10 we can expect the iOS 7 to be downloadable around that time.
The iPhone 5S event is September 10th, and from that it looks like iPhone 5S pre-orders will start on September 13th with an iPhone 5S release date on September 20th. This reflects Apple's normal timeline and various leaks about Apple's plans.
With all of this in mind the iOS 7 release date is most likely scheduled for September 18th, two days before the iPhone 5S release date. Apple used the same timing since the iPhone 3GS and iOS 3.
   iOS 3 release two days before the iPhone 3GS
   iOS 4 release three days before the iPhone 4
   iOS 5 release two days before the iPhone 4S
   iOS 6 release two days before the iPhone 5
It is all but confirmed that Apple is planning an iOS 7 release date for September 18th or September 17th. It would be a major shock to see it arrive on the iPhone event day, and it would not make sense for an iOS 7 release after the iPhone 5S release date.
The iOS 7 iPad update could see a small delay until Apple announces the iPad 5 and iPad mini 2, according to some reports.
Users on iOS 6 should be able to update to iOS 7 without any issues thanks to Apple's over the air updates which lets users update without plugging in to a computer. Users will likely see an update notification at 10 AM Pacific 1 PM Eastern on the release day.
What's New? – 23 Exiting iOS 7 Features:
Apple didn't announce an official number of new iOS 7 features on stage at WWDC 2013, but we did find at least 50 iOS 7 features you'll actually use. In addition to a completely new look and small changes to almost every part of the iPhone experience there are 10 to 12 new iOS 7 features that will make a big difference to your daily use.
This iOS 7 video highlights the new features in iOS 7 that users will find most beneficial this fall. Below we go into the new iOS 7 features in more detail.
New Look
Apple completely changed the look of iOS 7, so users may be surprised when they turn the phone back on after the iOS 7 update installs. From a new lock screen, new icons and new looks for almost all of the included Apple apps there is a lot of new features and small changes.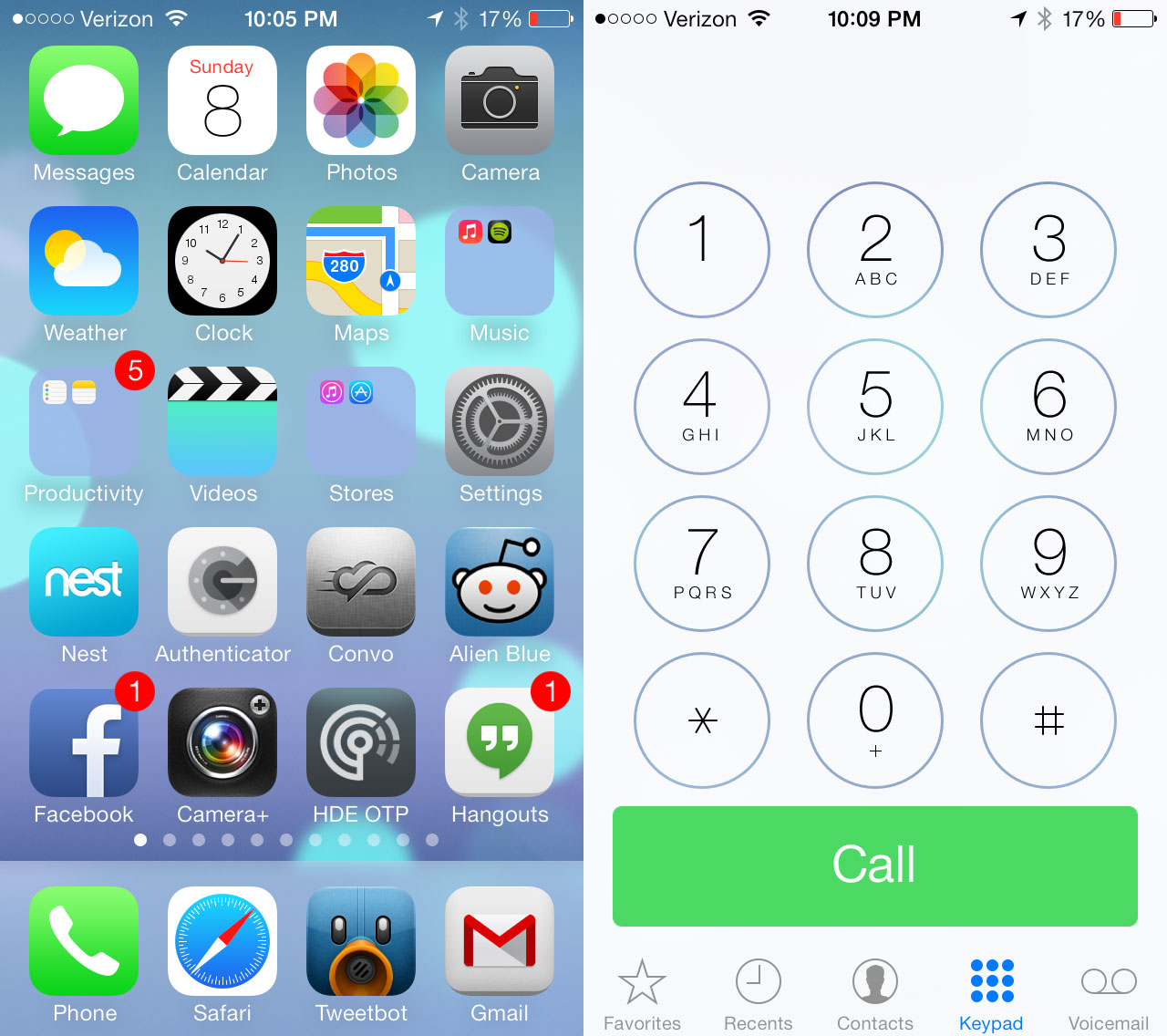 AT&T is training reps to help customers deal with any confusion from iOS 7 changes and Apple is reportedly limiting vacation time for AppleCare staff in order to deliver speedy responses to users who call or chat with questions about where something is in iOS 7.
Users may notice that the iOS 7 design looks a bit simpler thanks to textures being replaced by single colors and button borders fading into nothing ness. In iOS 7, users will often just see text where they need to tap, not an outline of a button. There are many other small changes in Apple's apps. Notes for instance no longer features a yellow legal pad look and Reminders is cleaner looking as well. Game Center kicked the felt covered table to the corner in favor of bright colors and cleaner designs.
In short, be prepared for a new look that could be a bit confusing or the first day or so, but many users will settle in to the iOS 7 update's new looks easily with a little exploration and the Gotta Be Mobile team will also help with a guide for iOS 7.
Notification Center
The Notification Center is not new in iOS 7, but Apple improved the design with a new look and three tabs to separate the information you need to know right now, all notifications and missed notifications.
The Today tab shows the current date and weather and also the time to a location that makers sense, such as work in the morning, your favorite coffeeshop at three in the afternoon and home in the evening. iOS 7 automatically determines the locations. It's not as smart as Google Now on Android, but a nice touch. This tab also shows reminders, calendar info and stocks.
Spotlight
Spotlight search is the easiest way to search the entire iPhone, and on iOS 7 it is completely redesigned. Instead of pressing the home button twice or swiping to the left most screen like on iOS 6 and earlier, users will need to swipe down.
Users can swipe down from any home screen by pulling down from anywhere on the app icon area to access spotlight. It is a small change that will save users a lot of time over the long run.
New Siri Options & Features
Siri is updated for iOS 7 with new voice options and more realistic sounding voices. Users can now pick between a male and female voice option without switching languages.
Siri can also show more on the Siri screen than in iOS 6, making the service more useful. Sadly there is still no way to buy a custom Siri voice, like Mr. T or other novelty voices.
Folder Improvements
iOS 7 makes folders more appealing by removing the small limit from iOS 6 so users can put over a hundred apps in a single folder.
This is possible thanks to pages of apps within a folder. Users can now organize almost all of their games or favorites into a single folder with pages of organized apps inside. Users cannot name pages or put folders within folders, but it is still a welcome upgrade.
iOS 7 iPhone & iPad Controllers
The iPhone and iPad gaming scene could get a big boost in iOS 7 thanks to controller support. There are already a number of iPhone and iPad controllers, but they only work with specific games.
With iOS 7 Apple is making controller support official so games can tie into one set of controls that makes it easier for developers to make games that work with controllers and for manufacturers to make controllers for the iPhone and iPad.
Live Wallpapers & Panoramas
Users can now customize the look of the iPhone and iPad with live wallpapers, which Apple calls dynamic wallpapers. These wallpapers move as users turn and move the iPhone. At this point there are several included with the iOS 7 update, but we could see Apple let developers sell more like Android does.
Users can also use a panorama as a wallpaper or lock screen wallpaper on iOS 7. When moving the iPhone or iPad, the panorama will move in the background.
New Camera App With Filters
Apple isn't adding as many options as Samsung includes on the Galaxy S4 and Galaxy Note 3, but they are refreshing the iOS 7 camera app.
Users will see a new layout which lets user swipe between video, photo and a new square photo mode. The app also includes live filters that let users add Instagram like looks to their photos.
iCloud Keychain
The iPhone, iPad and Mac can now remember all of your passwords and credit card information with iCloud Keychain.
This new service will sync your passwords between the iOS 7 devices and OS X Mavericks which should arrive by late October.
iTunes Radio
Apple now offers a free Pandora and Spotify competitor that allows users to listen to radio stations customized from artists, genre and album.
iTunes Radio is a free service that will play ads, but users with iTunes Match will hear no ads. The service allows users to control iTunes Radio with Siri, including creating new stations by voice or calling up a previous station with Siri, something Spotify and Pandora can't offer.
Background Refresh
If you hate opening up Facebook or Twitter and seeing old content, iOS 7 could deliver a much improved experience. iOS 7 brings background refresh, a smarter way for apps to update without draining your battery.
Once app developers add support for background refresh, users will start to see apps that are up to date when they open them and apps that update when users need them to, in the background, without draining battery life.
New Photos App and Videos on Photo Stream
The iOS 7 Photos app is completely new with a new collections view that shows photos by date and location in a easy to navigate view that will let users find photos from vacation or from a kid's first game in seconds.
The new iOS 7 Photos app also lets users share a moment on Photo Stream without selecting each photo individually. And, in iOS 7 users can share videos on Photo Stream.
Connect to Flickr & Vimeo
Users that want to share photos and videos quickly, but aren't fans of YouTube and Facebook can now link up to Flickr and Vimeo.
Users will link to these accounts just like Twitter and Facebook, and the option will then show up in the share menu in iOS 7.
New iOS 7 Safari Features
Apple updates Safari for iOS 7 with a new look that makes the built-in browser easier to use and could sway a few Chrome users back to Apple's camp.
Safari now features a single tab to enter a URL and a revamped bottom bar that quickly hides to deliver more room on screen. There is also a new tab layout that lets users scroll through a rolodex like layout of tabs and users are no longer limited to just eight tabs.
Automatic App Updates
With iOS 7 you won't see a growing badge icon for app updates shaming you into updating apps by the dozens. Instead users can turn on auto app updates and Apple will push new versions automatically.
Users can turn this off and limit to WiFi, but for most apps this is a great idea as it will bring new features faster without the need for a user to tap on update all.
New Do Not Disturb Option
Apple introduced Do Not Disturb in iOS 6 as a great way avoid being woken up or bothered by alerts and notifications. While Do Not Disturb is nice, it is not perfect in iOS 6.
Users can now pick to hear alerts when the phone is unlocked. Users can now choose to keep the iPhone silent at all times, or just when the phone is locked.
New Lock Screen
The iOS 7 lock screen is also new with the ability to open the Control Center, Notification Center and access to the camera just as on previous versions of iOS.
Users can also swipe on any spot of the screen to unlock, instead of looking for a small bar at the bottom of the screen.
Air Drop Sharing
Apple now lets users share photos and more with nearby users with Air Drop. Air Drop is similar to the NFC equipped S Beam sharing used on Samsung devices, but relies on Bluetooth.
Air Drop will only work on the iPhone 5, iPad 4, iPad mini and iPod touch 5th generation, so some options are limited.
Security Options
The new security features in iOS 7 will help users keep their phone safe and could help dissuade thieves from stealing an iPhone or iPad.
When Find My iPhone is on, the iPhone cannot be reset to factory settings without an Apple ID and password, which is separate of the PIN that some users have in place to secure the iPhone.
Individual App Data Usage
Users can now see which apps are using the most data on cellular networks to help keep app data usage in check.
With iOS 7, users can now see the data used and turn off data on a per app basis which is something users have been asking for from Apple for a long time.
New iOS 7 Multitasking
Multitasking in iOS 7 is revamped to deliver better access to apps and a more visual experience. Instead of app icons at the bottom of the screen, users now see cards that are big enough to show what an app is and what the user was last doing in it.
The new iOS 7 multitasking experience works in landscape as well, something iOS 6 multitasking lacks.
Control Center
Control Center is one of the biggest new iOS 7 features, similar to Notification Center from iOS 6. This new pull up menu is accessible within any app or screen on the iPhone or iPad, offering fast access to commonly used features and settings.
Turn Airplane mode, WiFi, Bluetooth, Do Not Disturb and Orientation lock on and off on this menu as well as control brightness and music. Users can also toggle Air Drop and Air Play. The bottom row of icons let users launch a flashlight, clock, calculator and the camera.
Block Calls and Texts
Users have longed for a way of blocking unwanted calls and messages on the iPhone without installing third party apps or using limited carrier blocking tools.
Users can block contacts right from iOS 7 which includes calls, texts and FaceTime calls.
Source: GottaBeMobile.com