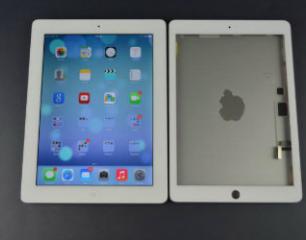 Apple iPad 5 is yet to be announced and the rumor mills are already at full speed. A recent leak reveals that the iPad 5 won't be having any changes in the screen size.
Well, happy to know that, we are always comfortable at standard size of the iPad.
But the leaked images do shed some information that the new iPad 5 will have a much smaller bazel on it's sides, but will still be keeping the home button at the bottom of its screen, like iPad's previous versions. The rear plate might be crafted attractively from aluminum with the Apple Inc. logo and the iPad branding embossed into the metal.
According to a leaked report published in the website Digitimes, some of the component suppliers in Taiwan have leaked the news that Apple is going to fit a sapphire crystal Home button in their upcoming iPad 5 and the iPad mini 2. These claims from those suppliers have given rise to an idea that Apple is looking to include their new technology, Touch ID fingerprint scanners, on their new upcoming tablet devices. Another interesting rumor which has arrived recently is that Apple is considering switching out the iPhone's protective Gorilla Glass Safety front panel with the latest and even more durable sapphire crystal – but this news is still a rumor.
Individual reports indicate that Apple is still expecting to reveal the 9.7-inch iPad 5 and their smaller version of iPad, 7.9-inch iPad Mini 2 at an event organized by Apple Inc. in this month. October 22nd is the date, confirmed when Apple sent invites to their event.
Although the next version of iPad mini – iPad mini 2 – is not expected to get much changes in its design, but Apple can always feature a higher-resolution Retina display than the iPad mini 1. If we are to believe this rumor, we can figure that the next iPad 5 is lighter, slimmer, and more compactly designed than the pervious models – with an aesthetic which mimics the iPad mini on the larger scale.