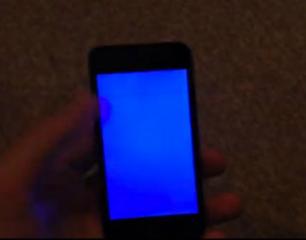 iPhone 5S seems to be having an ancient problem, the 'Blue Screen of Death'. This weird problem seems to be in every iPhone 5S phone out-there.
Based on reports from various Apple forums, threads are growing citing some allegations regarding a Blue-Screen-of-Death. The claims are that the handset has a bug which gets activated once a user attempts to exit the iWork applications and switch apps that results in blank blue screen.
According to one such user, his experience goes like this: "How do I resolve the blue screen error while using iWork on my iPhone 5s? When I use Pages, for example, and press home button to switch app, my iPhone restarts after a blue screen. I even returned it & took a new one, but no luck. The bug is in iWork suite for iOS 7, I think, and not in the hardware. I'm a heavy Pages user and this bug is hindering my work (besides scaring me to death)."
Besides, the handset also resets randomly where the Apple logo will appear on the screen with a flash, stay for few seconds, and then reboots itself. Experts suggests that disabling the iCloud syncing with Apple's Pages, Numbers, and Keynote apps will fix the problem but many still could not get a fix out of it.
So if the problem is a true one, then like the iOS 7.0.1 and 7.0.2, the iPhone users can expect for another update of their cellphone's operating system.