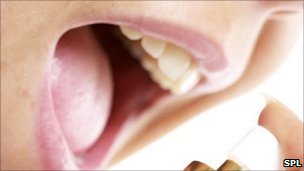 A new technology will now detect  cancer just by  doing the breath test on the patient with an "electronic nose", says scientist from Technion Israel Institute of Technology .
The highly sophisticated device can detect even malignant head and neck cancer tumours, which are often hard to diagnose.
The device is designed to pick up on microscopic chemical changes that are emitted in the breath of people with the two cancers, compared to those without the disease.
It also distinguished between lung cancer patients and those free of the disease and between head and neck cancer and lung cancer patients.
"There's an urgent need to develop new ways to detect head and neck cancer because diagnosis of the disease is complicated, requiring specialist examinations," the Daily Express quoted professor Hossam Haick, from the Technion Israel Institute of Technology, as saying.
"We've shown that a simple 'breath test' can spot the patterns of molecules which are found in head and neck patients in a small, early study.
"We now need to test these results in larger studies to find if this could lead to a potential screening method for the disease," he added.
The study has been published in the Journal of Cancer Research.