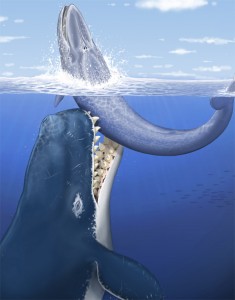 The research done by Olivier Lambert in the deserts of  Peru helped him to discover a new whale fossil   that is different with whales of modern era.
Their suggestions adds that this Ancestor Whale called as Sperm whale was actually a predator that hunts other whale.
Boy! This must be really huge to attack and eat a whale. Whale is the largest Mammal of our planet.
I have added a youtube video of their discovery that shows the fossil of  this new  fossil whale.