This is something you must enjoy with your family. The Lyrid meteor shower will hit it's peak tonight and it will be a spectacular show! So grab your sleeping bags and hit the roof. This is something you don't wanna miss.
Looks like celebration for Earth day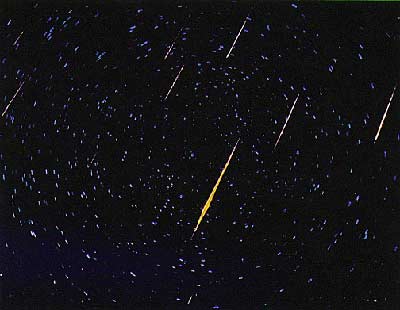 NASA scientists predict the annual Lyrid meteor shower, which peaks overnight tonight (April 21) and before dawn Sunday, will offer an impressive sky show to observers with clear weather, largely due to the absent moon.
Meteor shower expert Bill Cooke of NASA told SPACE.com that the moon is currently in its new phase, when the side facing Earth is not illuminated by the sun. That means that unlike last year, when bright moonlight washed out April's annual "shooting stars" display, the 2012 Lyrid meteor shower could be a stand-out event.
"The Lyrids are really unpredictable," Cooke said. "I'm expecting 15 to 20 Lyrid meteors an hour. Back in 1982, they outburst to nearly 100 per hour. You really can't predict with this."
One thing that's certain, though, is that with a bright moon out of the picture, meteor aficionados graced with clear, dark skies could be in for a weekend skywatching treat. Dark skies well away from city lights are essential for the best meteor shower observing conditions.
So it will be better if you plan to watch somewhere far from the city lights.