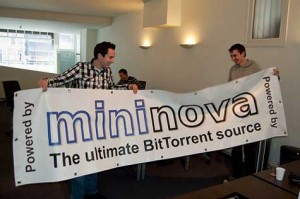 What happened to Mininova site?  This question has been arised between the Content downloaders online .  Well , the answer for that is , "mininova has stricted it service to content distribution after a fallout in court".
Another Torrent site down. Yep, the pressure from Entertainment Industry has taken a toll on the torrent sites.  The other torrent sites which is most visited  thepiratebay.org has been stopped in many countries.
Another famous site zamunda.net is no longer available.
The Following message has been given in mininova site.
"
Hi all,
Today is an important day in the history of Mininova. From now on, we are limiting Mininova.org to our Content Distribution service. By doing so, we comply with the ruling of the Court of Utrecht of last August.
Unfortunately the court ruling leaves us no other option than to take our platform offline, except for the Content Distribution service. According to the verdict (Dutch link) we have to prevent uploads of torrents to Mininova that refer to certain titles or to similar-looking titles. We've been testing some filtering systems the last couple of months, but we found that it's neither technically nor operationally possible to implement a 100% working filter system. Therefore, we decided that the only option is to limit Mininova to Content Distribution torrents from now on. We are still considering an appeal at this moment.
We launched our Content Distribution service in 2007. This service allows producers and artists to easily publish and distribute their content for free through Mininova. The launch of Content Distribution has proven to be a success. Countless content owners have used Content Distribution to distribute their content (e.g. albums and documentaries) for free to millions of users. For example, the Dutch band Silence is Sexy released their complete album on Mininova and received the Interactive Award 2009 for doing so. The Dutch television broadcaster VPRO decided to start using Content Distribution in 2009 in order to distribute documentaries.
We would like to thank you for your support. Especially everyone that contributed to Mininova receives a big "thank you!" for the effort! We hope to keep welcoming you on Mininova and our other projects (e.g. Snotr, Dispostable).
Thanks! The Mininova staff  "
For direct viewing of the message,  click here
Thats it folks, piracy of movies will come to on end or will it raise again? what do you have to say on this?