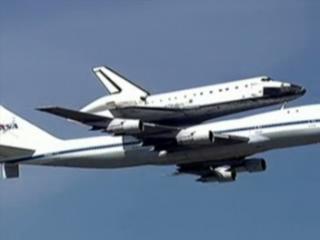 The US space shuttle Endeavour made its final flight in Los Angeles today. Crowds in LA stood to watch the space shuttle take it's final flight before it retires in California Science Center.
From the state Capitol to the Golden Gate Bridge to the Hollywood sign, massive crowds of spectators pointed their mobilephones and cameras skyward last night as the shuttle, riding piggyback atop a 747 jumbo jet, buzzed past.
"It made the hair on the back of my neck stand up. It was historic, momentous," said Daniel Pifko, who rode his motorcycle to a hilly peninsula north of San Francisco to snap a few pictures of the iconic bridge.
Across California, throngs swarmed rooftops for one last peek of Endeavour airborne. Parents pulled their kids out of school. Some became misty-eyed, while others chanted 'USA! USA!' as the shuttle soared overhead.
Gina Oberholt screamed for joy when she spotted Endeavour from a scenic overlook in Los Angeles. She felt a bit nostalgic because her uncle had worked as a shuttle technician.
"I've always had a special place in my heart for the shuttle program," she said.
Known as the baby shuttle, Endeavour replaced Challenger, which exploded during liftoff in 1986. Endeavour rolled off the assembly line in the Mojave Desert in 1991 and a year later, rocketed to space. It left Earth 25 times, logging 198 million kilometres.
Last night's high-flying tour was a homecoming of sorts.
Giant cranes plucked the space shuttle Endeavour from the back of a modified Boeing 747 overnight and gingerly attached it to a special transporter that will haul the spacecraft next month to its retirement home in South Los Angeles.