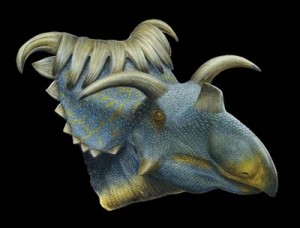 Two new Species of dinosaurs that roamed our Earth more than 65 billion years ago has been found in southern Utah
The discovery of the new plant-eating species along with "Kosmoceratops richardsoni" earlier discovery,was considered the most ornate-headed dinosaur known to man . It was  reported Wednesday in the online scientific journal PLoS ONE, produced by the Public Library of Science.
The other dinosaur, which has five horns and is the larger of the two, was dubbed Utahceratops gettyi.
"It's not every day that you find two rhino-sized dinosaurs that are different from all the other dinosaurs found in North America," said Mark Loewen, a Utah Museum of Natural History paleontologist and an author of the paper published in PLoS ONE.
"You would think that we know everything there is to know about the dinosaurs of western North America, but every year we're finding new things, especially here in Utah," he said.
How did the new dinosaurs look like?
The Utahceratops has a large horn over the nose and short eye horns that project to the side rather than upward, similar to a bison. Its skull is about 7 feet long, it stood about 6 feet high and was 18 to 22 feet long. It is believed to have weighed about 3 to 4 tons.
The Kosmoceratops has similar facial features at the Utahceratops, but has 10 horns across the rear margin of its bony frill that point downward and outward. It weighed about 2.5 tons and was about 15 feet long.
The horns on both animals range in length from about 6 inches to 1 foot.
Paleontologists say the discovery shows that horned dinosaurs living on the same continent 76 million years ago evolved differently.
Scientists say that other horned dinosaurs lived on the same ancient continent known as Laramidia in what is now Alberta, Canada.
The numerous horns are believed to have been used to attract mates and intimidate sexual competitors, similar to horns on deer.
"The horns really are probably developed at puberty, because most likely these are signals for mate recognition, competition between males, things like that," Loewen said. "They're sexual signals and really that's how we think this group of dinosaurs divided."