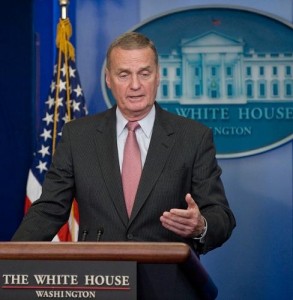 Washington, July 26 (DPA) The United States strongly condemned the disclosure of classified information on the war in Afghanistan, National Security Advisor James Jones said Sunday, as the action could put lives at risk and threaten national security.
An estimated 92,000 secret US military records about the war in Afghanistan were leaked to the media by online whistle-blower Wikileaks.
They were published by The New York Times. The documents were also shown to UK daily The Guardian and German weekly Der Spiegel several weeks ago on the condition that they wouldn't be published before Sunday, the Times reported.
The documents span parts of two US administrations and 'illustrate in mosaic detail why, after the United States has spent almost $300 billion on the war in Afghanistan, the Taliban are stronger than at any time since 2001,' the Times said.
'The United States strongly condemns the disclosure of classified information by individuals and organisations which could put the lives of Americans and our partners at risk, and threaten our national security,' Jones said in a statement.
He said Wikileaks made 'no effort' to contact the government about the documents.
The documents posted by Wikileaks reportedly cover the period from January 2004 to December 2009, before US President Barack Obama announced a 'new strategy with a substantial increase in resources for Afghanistan, and increased focus on Al Qaeda and Taliban safe-havens in Pakistan,' Jones said.
The Times said that the documents 'are a daily diary of an American-led force often starved for resources and attention as it struggled against an insurgency that grew larger, better coordinated and more deadly each year.'
Jones said the 'irresponsible leaks will not impact our ongoing commitment to deepen our partnerships with Afghanistan and Pakistan; to defeat our common enemies; and to support the aspirations of the Afghan and Pakistani people.'
He admitted that 'serious challenges lie ahead, but if Afghanistan is permitted to slide backwards, we will again face a threat from violent extremist groups like al-Qaeda who will have more space to plot and train.'