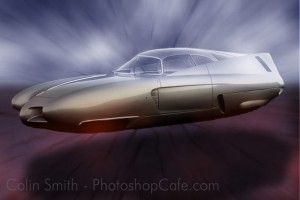 Its just amazing to know that our generation is lucky to  see one of the greatest achievement of mankind. The flying car is to be introduced world wide in 2011. The car was  developed by an American company Terrafugia Transition, based near Boston. They definitely should be credited for creating a new revolution in Car-Plane saga. America has kept up to its promise by delivering the plan of flying car to a real working model.
'The Flying Car' can travel up to 725 kilometres in the air at a speed of more than 115 kilometres per hour'. It uses  gasoline as fuel and  has front wheel drive on the road and a propeller for flight. If want to land on the road, all required is touch the wheels of the car on the  road and with the time span of 30 seconds it becomes a car. At roads, it behaves like a normal car and needs a normal garage for car parking.
The cost of the car is expected to be around $200,000 . The company has already received orders on manufacturing 60 cars. This new car is sure to be a traffic rescuer for people who wait hours on traffic.
Just  guessing now what will happen to current Automobile industries who are already in great  loss . If the new concept of  Flying car succeeds world wide, the current automobile Industry will be left with no choice on either to adopt the new flying car manufacturing  process or close the company.
The CEO of the company told Canadian TV (CTV) network here that they have successfully test-flown 'The Flying Car' as many as 28 times.The tests have shown that the vehicle can drive, fly and switch from being a plane to a car in just 30 seconds. 'It (testing) has been very successful,' Carl Dietrich, co-founder and CEO of Terrafugia, told the television network.
He said: ' We have got a very good handling vehicle and our test pilot said that the flights were just remarkably unremarkable – it just flies like a really nice, little airplane.'
Company vice president Richard Gersh told IANS: 'The Transition (the name for 'The Flying Car') is not designed to replace the automobile. However, it will solve transportation issues for a variety of circumstances.'
Asked whether the vehicle will be mass produced one day, he said: 'That is certainly a possibility, but a number of years away.' He said the vehicle will be able travel on ordinary roads.