Florence Detlor is 101 years old and a Facebook user, not just any Facebook user she is officially the world's oldest Facebook user. Florence Detlor got to meet the founder of Facebook Mark Zuckerberg & Sheryl Sandberg.
Florence Detlor is one avid Facebook user and after her visit she has been getting quite an avalaunch of friend request.
Florence Detlor on Monday visited Facebook founder, Mark Zuckerberg and the company COO, Sheryl Sandberg.
Detlor's age and Facebook activeness have garnered attention from the likes of Jay Leno, USA Today and NPR. She credits her newfound popularity as being the reason she had the opportunity to meet Zuckerberg and Sandberg in person.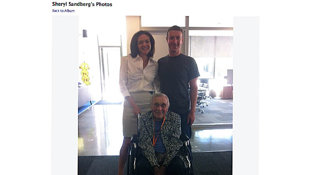 "They just called one day and said they wanted me to get to meet Facebook," Detlor told ABC News.
So off she went to visit the Facebook headquarters, which coincidentally is pretty close to her California home, where she was greeted by Zuckerberg and Sandberg for a personal tour of the social network's campus.
"I was really impressed with what he's doing with his imagination and efforts. After all, he's a busy person and gracious to come out and speak with me," said Detlor. "They put me in my wheelchair and pushed me around. I brought my own wheelchair so I'd be comfortable. They took me over to the part of the building where his office is and a whole bunch of computer people. It was very interesting. He was really gracious and very nice."
Sheryl Sandberg posted a picture of the outing to her Facebook wall with the caption, "Honored to meet Florence Detlor, who at 101 years old is the oldest registered Facebook user. Thank you for visiting us Florence!"
When asked how often she uses Facebook, Detlor replied, "I try to get on every day, although I missed two days and had about 300 messages. That many people wanted to be my friend. I better not let a day go by."
Detlor, of Menlo Park, Calif., said her favorite thing about being on Facebook is reading all the messages she receives.
"It's interesting to know where they're coming from," Detlor said. "I just got one last night from Asia. Oh, and India. They're participating in the world in a whole different way, and that's fascinating to read where they're from."
Since Detlor first joined the social network on Aug. 19, 2009, she's tried to stay as active as possible on her page. She enjoys the access it allows to keep in touch with family.
"It's the little things you learn along the way about people and whatnot," she said. "Not that I'm looking so much, but you come across information – not accidentally, but incidental information."
Detlor originally wanted to join Facebook so she could keep up with all the latest trends, and admitted she was intrigued with everything she'd read about Zuckerberg.
"Well, I was very interested in reading about this young man with an odd name, and so I followed," Detlor said. "And I like to know what's new about iPads. And I like to be aware of everything that's going on in that department."
She may not be the most technologically savvy Facebook member – iPads have no direct correlation with Facebook – but nonetheless, Detlor has gained tons of "friends" that support and applaud her efforts to stay hip.
She had a word of advice for all the other older people out there too intimidated to join Facebook.
"Get with it," Detlor said.