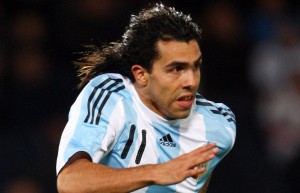 Argentina beat Mexico 3-1 in Johannesburg and buy a straight ticket to the world cup quarter final.
Man, this is simply great. The 2 time world champions Argentina are currently under roar. Yep, they have outplayed their opponents more convincingly then any other team in this current football world cup 2009.
Carlos Texez scores two goals for Argentina which secured the seal for the victory. Higuain scored 1 goal for Argentina. Hernandez scored  a lone goal for Mexico.
By this win, Argentina reached Quarter final and will meet Germany in the next encounter.
It seems Argentina are the hot favorites to win the football world cup 2010. Let's see who wins as the tournament proceeds J