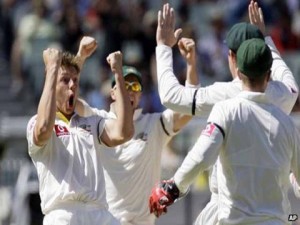 Australian cricket team has won the 3rd test match against India by an Innings and 37 runs thereby sealing the series with 3-0 with one more test match to be played yet.
Looks like India's tour of Australia has turned into a disaster. Australia not only won the matches straight third time but also have secured a back to back Innings victory over India whereas India has lost 7 test in a row abroad.
Readers should know, India also lost 4 test in a row against England in England.
Aussies shows Whose the Boss here
Aussies are back to claim their dominion in the World Cricket which they lost 2 years ago to India. India has been enjoying the status of No 1 team quite some while now thanks to the heroics of a few.
Captain Marvel as they say to Indian Captain Dhoni has started to get bad audience among the Media who are not in mood to favor him anyway. I am glad that Dhoni is not buying into what Media says but its annoying that his control over the team has been scattered like a broken glass.
Disappointed Dhoni already hinted that he will retire from playing Test in 2013.
Coming back to the 3rd test match at Perth, the match started with a disaster as always Virender Sehwag failed to click with the bat and the entire team collapse.
Batting greats as they say to Sachin, Dravid, Laxman, failed in this entire series.
From the bowling end, Yadav showed the potential and hunger for Cricket but it was nothing for Aussies batsman who scored big hundreds throughout the series.
Man, Siddle, Ben Hilfenhaus,  made India struggle to even hold the cricket bat properly.
Congrats Australia for the Heroics.