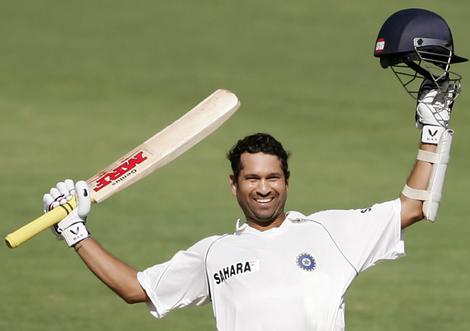 Australian media today paid rich tributes to Sachin Tendulkar, calling him the "man of the century" for the double hundred that helped the hosts restore balance in the second and final cricket Test against Australia in Bangalore. All leading publications showered praise on the "greatest batsman of all time" and described the little master as "like the kid who wished it wouldn"t get dark".
"Tendulkar"s resurgence has put an almost insurmountable gap between him and Ponting in the race to be the highest all-time run-getter," the Sydney Morning Herald said. The Australian daily described Tendulkar as "the one constant in an ever-changing cricket universe, ever present, always scoring.
He has been at the crease for 21 years. "How he haunts the Australians.
Last time they were in India, Ricky Ponting"s men watched him score his 13,000th run. In this Test he brought up his 14,000th and at times he seemed to be on his way to 15,000th.
God alone knows when he will desist," the paper added. The 37-year-old played "like the kid who wished it wouldn"t get dark", the paper said.
"Tendulkar is exceptional," wrote cricket columnist Peter Roebuck in the same paper. "Every shot he plays is compelling.
" "India might never know how blessed it has been that its best cricketers of the period were also its most upstanding," he said. "The Age" newspaper said: "The Little Master serves up a lesson.
If October 10, 2010 was to be Sachin Tendulkar"s day, then the 11th was his honorary parade, one which may roll over the top of the hapless Australians in the second Test." "Emphatic doesn"t really come close to justifying Tendulkar"s batting masterclass," the paper added.
Tendulkar today completed his sixth double hundred in Test cricket scoring 214 runs. The right-hander took 363 balls and struck 22 fours and a couple of sixes during his stay on the crease.
He was dismissed by rookie Australian pacer Peter George who clean bowled the Indian for his maiden Test wicket. Tendulkar holds just about every batting record worth owning in the game, including those for most runs and hundreds in Tests and ODIs, and most international runs.