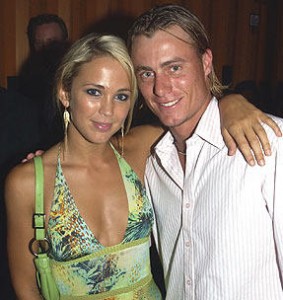 Happy news is on the way to former world no 1 Lleyton Hewitt. The Australian tennis sensation has  confirmed that he is expecting their third child this december.
The news of pregancy was a little surprise to both Hewitt and his wife bec.
"We were thinking we'd wait until Lleyton retires (from professional tennis) because traveling with two is plenty. It's a happy surprise though," The Herald Sun quoted Bec, as saying.
"It wasn't fully planned, but it's fantastic. We were always going to have a third at some stage so it was exciting news," Lleyton, who is currently ranked 33rd in the world, added.
The couple already has two children Mia, 4, and Cruz, 17 months.